Today, I'll reveal the 2023 pay chart for VA disability with the projected 8.9% COLA increase.
This October, the VA will adjust disabled veteran's 2023 VA disability pay rates using the annual COLA increase set by the Social Security Administration.
With inflation at a 40-year high, disabled veterans with a VA disability rating of 10% or more can expect to see an 8.9% COLA increase on their January 2023 VA disability payment.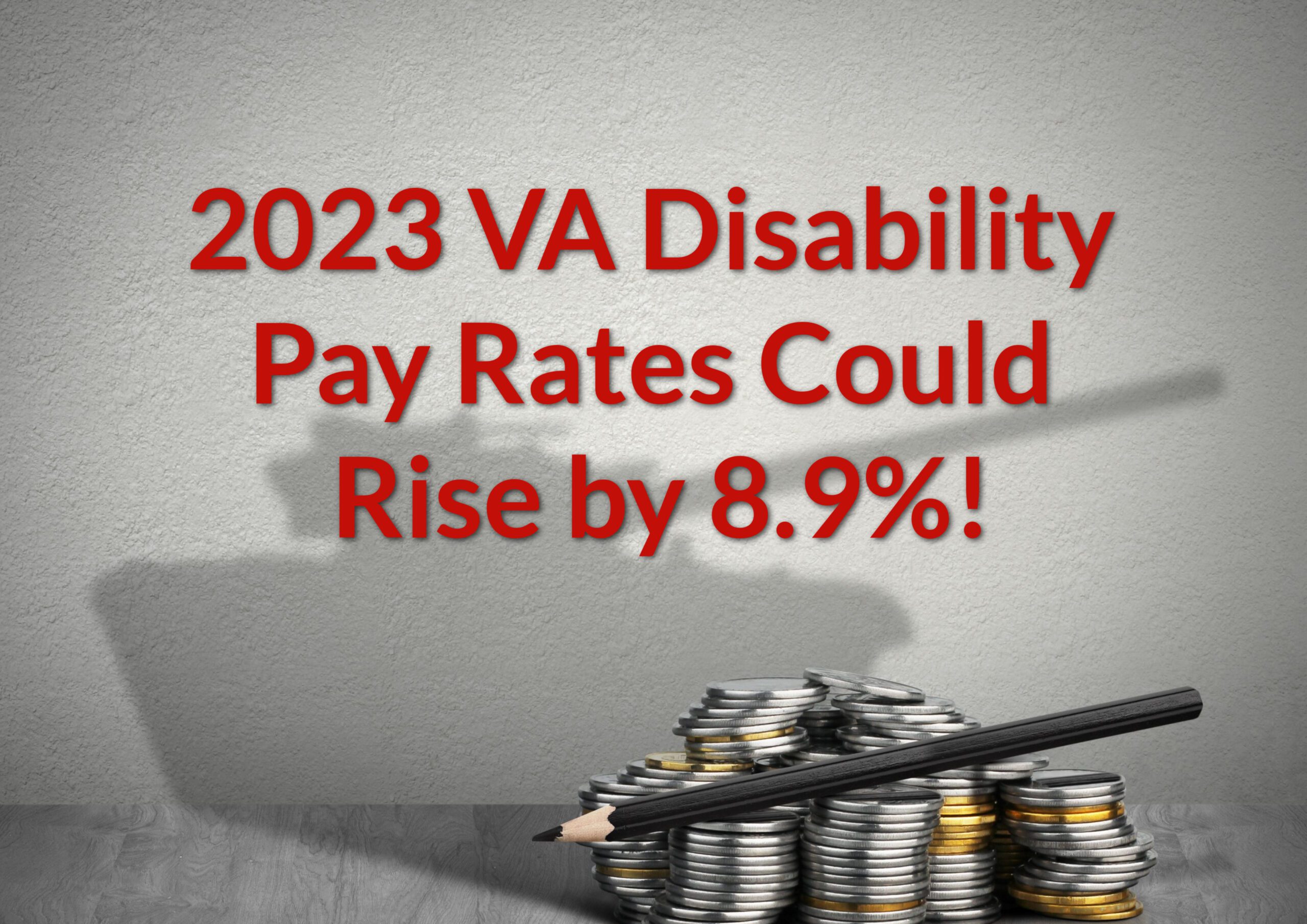 Some pundits estimate a COLA could be in the 9.6% range, but we disagree (it'll likely be lower), especially since the July 2022 CPI-W data decreased slightly to 9.1% with continued downward pressure.
Therefore, a 9.1% COLA increase is the first month's data point (of three) for determining the final 2023 COLA increase for VA pay, which we expect to continue to decline as the Fed rate hikes begin to cool down the economy.
Want to Speak with a VA Claim Expert? It's FREE!
Fellow Veterans: For a limited time, you can book a FREE, no-obligation VA Claim Strategy Call with one of our experts.
Here's a few topics worth exploring on your FREE discovery call:
Why VA claims are taking longer right now (2022-2023), and how you can speed-up your claim, even if you've already filed, been denied, or gave up.
Why medical evidence is the #1 way to win your VA claim, to include how to get DBQs and Nexus Letters at reduced rates from private medical providers.
Why many veterans ignore secondary claims for secondary service connection and service connection by aggravation, and how they can help you increase your VA rating.
Click the button below to book your FREE VA Claim Strategy Call:
What is the Pay Chart for VA Disability (2023)?
The estimated 2023 VA disability rates with dependents is shown below for reference.
These rates include the projected 8.9% COLA increase.
The 2023 VA disability pay chart for each school child are shown separately. They are not included with any other compensation rates. All other entries on this chart reflecting a rate for children show the rate payable for children under 18 or helpless. To find the amount payable to a 70% disabled veteran with a spouse and four children, one of whom is over 18 and attending school, take the 70% rate for a veteran with a spouse and 3 children and add the rate for one school child.
Where the veteran has a spouse, who is determined to require Aid and Attendance (A/A), add the figure shown as "Additional for A/A spouse" to the amount shown for the proper dependency code. For example, veteran has A/A spouse and 2 minor children and is 70% disabled. Add $129.68 for additional for A/A spouse to the rate for a 70% veteran to calculate the total amount.
2023 VA Disability Pay Chart: Frequently Asked Questions (FAQs)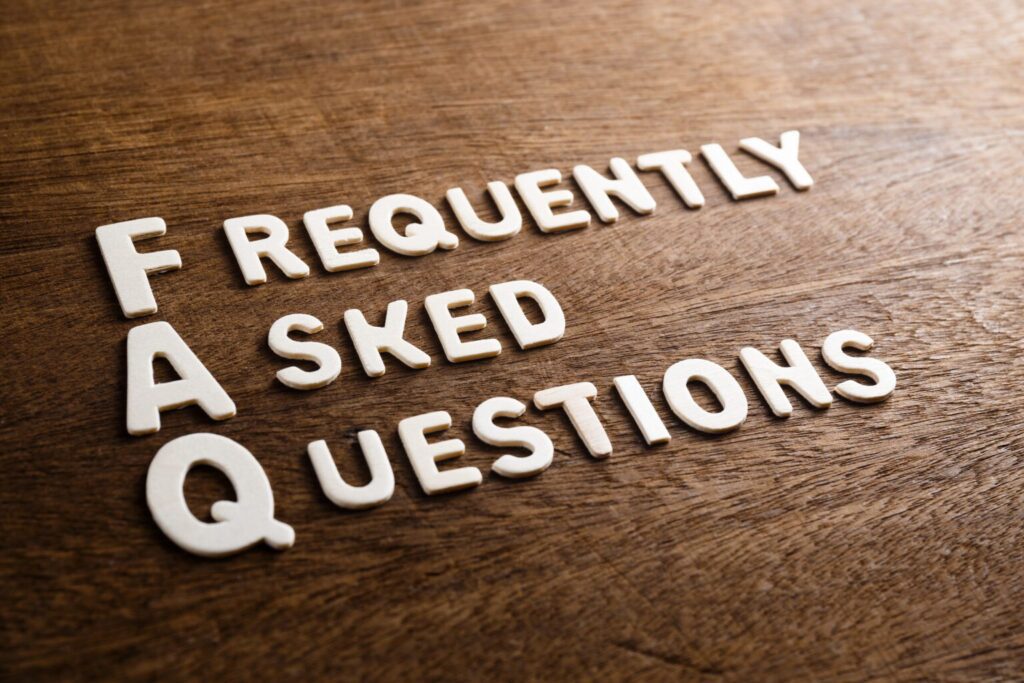 Will 2023 VA Disability Rates Increase Next Year?
Yes, VA disability rates 2023 are projected to increase by 8.9% next year.
Disabled veterans with a 10% VA disablity rating or higher will see an estimated 8.9% COLA increase on their monthly VA compensation payment starting January 2023.
On October 13, 2022, the Social Security Administration (SSA) will make its official Cost of Living Adjustment (COLA) announcement, which affects more than 75 million Americans who receive Social Security and Supplemental Security Income (SSI) benefits, VA disability and pension benefits, military retirement pay, and other government benefits.
What Is the Estimated VA Disability Pay Chart 2023?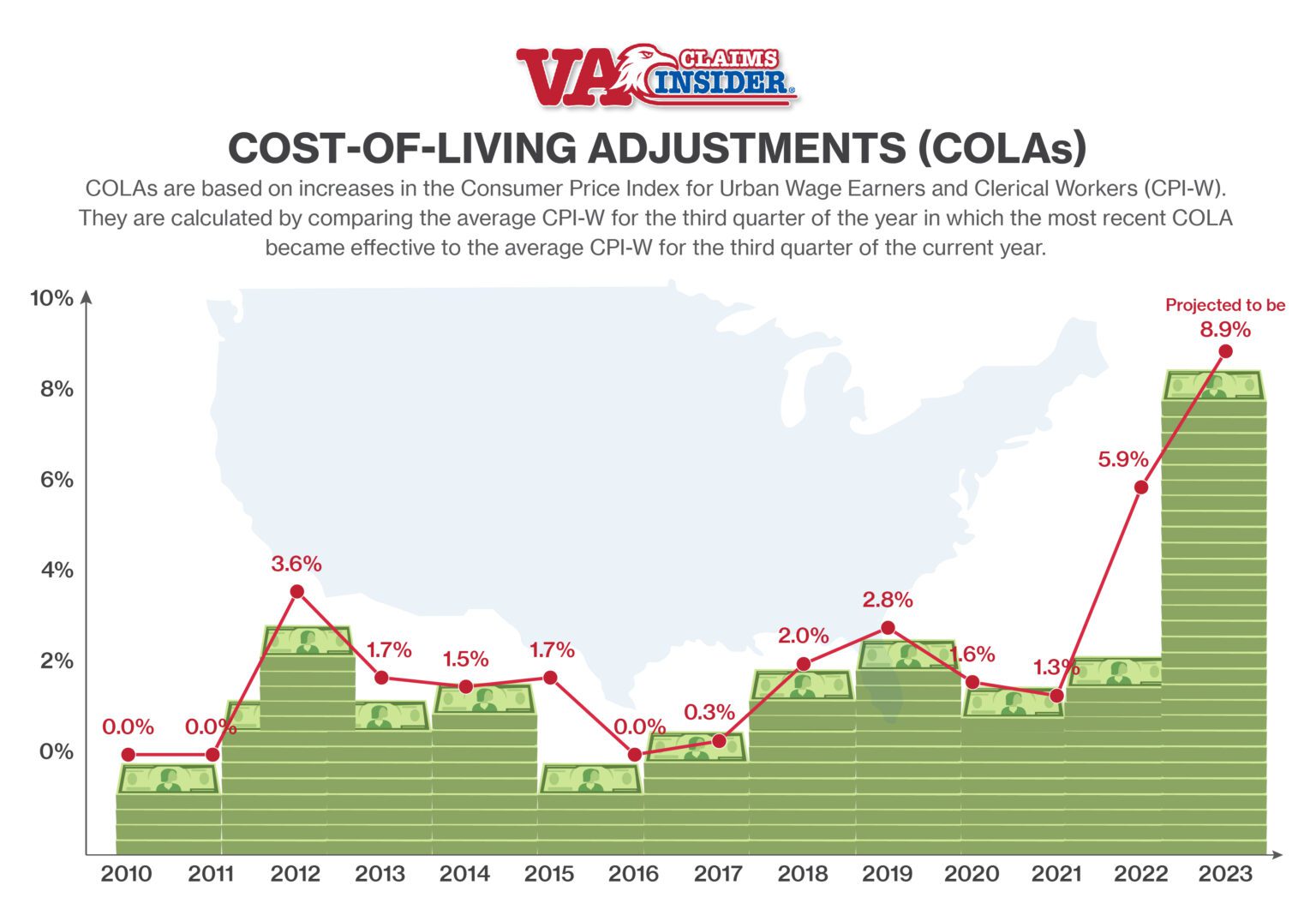 The estimated 2023 VA disability pay chart shows the disability compensation rates that Congress will pass on December 1, 2022 with a projected 8.9% COLA increase.
These new rates will be the amount disabled veterans receive each month at the various combined rating percentages for their service-connected disabilities.
How Does the VA Rating System Work?
Read more: What Is a Fixed Annuity? – Forbes Advisor
Your combined VA rating is a very important number.
It could be the difference between receiving thousands of dollars and millions of dollars.
Every service-connected disability will receive a rating of 0%, 10%, 20%, 30%, 40%, 50%, 60%, 70%, 80%, 90%, or 100%.
The higher your VA rating, the more tax-free compensation you'll receive.
For example, in 2023, a 10% VA rating is worth just under $160 per month, while a 100% VA rating can be worth more than $3,500 per month.
Your final rating depends on the severity of your disability: the impact it has on your work and life.
However, some disabilities by nature impact you more than others and therefore might garner higher ratings.
Read the Definitive Guide to the Top 50 VA Disability Claims!
VA Math Explained: How Does the VA Determine My Overall Combined Rating?
If you have one disability, then the rating for that disability and the rating for your total disability will be one and the same.
However, most of us have more than one service-connected disability.
So how does the VA consider all of them and wind up with one combined VA rating percentage?
If you receive several ratings for corresponding disabilities, they will not just be added together in a cumulative nature.
If you are rated at 70% for PTSD and 50% for Sleep Apnea, you won't be 70% + 50% = 120% disabled.
Why?
Because it's physically impossible to be more than 100% disabled.
Instead, the VA starts with your highest overall rating, multiplies the next highest rating into the previous one, adds it on, and so on.
Read more: Roth IRA vs. 401k | NextAdvisor with TIME
In the example I just gave, the VA would take the highest rating first, the 70% for PTSD.
According to that number, they would assume that 100% − 70% = 30% of you is still "healthy."
Then they multiply that remaining 30% by the rating for your Sleep Apnea, which is 50%.
Take 50% of 30% and you wind up with 15%.
Add that 15% onto the original 70%, and you wind up with an 85% total disability rating, which would be rounded up to a 90% combined VA disability rating.
The process continues for each disability remaining from highest to lowest.
Now that you understand it, you can see how someone could have five or six disabilities, but if they're all low value, the rating won't reach anywhere close to 100%.
You'd have to layer in some 70s, 60s, 50s, 30s, etc.
How Are VA Compensation Rates Determined?
Congress designed the rates to reflect the projected amount of lost income that results from a veteran's disability.
The rating percentages reflect the severity of the condition, so a 30% rating (they should still be able to work) for a single veteran with no dependents means that a lower rate of pay should cover the economic loss of the disability, while a 100% rating (unlikely that they can work) receives the highest pay rate under the law.
Do My Dependents Qualify for VA Disability Pay?
Dependents do not qualify for VA disability payments directly; however, they can increase your overall monthly VA disability payment since they are dependent on your income.
The VA disability chart factors in parents, spouses, and children that are legally considered dependents.
How Do I Know My Combined VA Rating Percentage?
After the VA processes your disability claim, they will send you a rating decision letter that will detail each condition's individual rating and your total combined rating.
Your total combined rating is the rating percentage used to find your payment rate in the chart.
You can also quickly calculate your combined VA rating using our free VA disability calculator.
How Do I Apply to Receive a VA Rating?
To apply, simply start a new VA claim and submit it online at VA.gov along with medical records for each condition you're claiming.
How Long Does It Take to Receive VA Disability Benefits?
Read more: Retirement Topics – Beneficiary | Internal Revenue Service
New claims (first time filer) usually take 4-8 months to process.
Generally, the more conditions you file for, the longer your claim will take.
Increase claims or secondary claims usually take 3-4 months.
Once you get a VA rating decision, you will start receiving payments on the first day the following month.
How Does the VA Assign Rating Percentages?
The VA follows the rules of the VA's Schedule for Rating Disabilities (VASRD) to assign rating percentages to veteran's conditions.
The VASRD is the official rating chart for VA disability (with rating rules for conditions) based on their medical diagnosis by diagnostic code and severity of symptoms in terms of frequency, severity, and duration.
Frequency means how often.
Generally, the more severe your symptoms, the higher your rating will be for that condition.
How Can I Qualify For a Higher VA Disability Pay Rate?
To qualify for a higher VA pay rate, you must get one or more individual condition ratings increased, which will then increase your total combined rating.
If your conditions have worsened since you last applied and now qualify for a higher rating, you can submit a new claim on VA.gov by checking the box for an increased evaluation.
Here's the deal fellow veterans…
So many veterans are stuck, frustrated, and underrated by the VA.
And we're on a MISSION to change it so you and your family get the VA disability benefits you deserve for serving our country.
If you're ready to increase your VA rating, regardless of past denials, checkout my brand-new FREE video training for 2023:
"VA CLAIM SECRETS: Top 3 Strategies to WIN Your VA Claim, PROVE Service Connection, and INCREASE Your VA Rating in Less Time!"
[Former VA Raters] Reveal SECRET VA Claim Tips & Strategies for Veterans…
Click the button below to launch the FREE training:
Want to Increase Your VA Rating This Year? WE CAN HELP!
VA Claims Insider is a highly-rated, veteran-owned and operated business.
20,000+ disabled veterans served in our membership programs since 2016.
30% average VA rating increase for veterans who complete our #1 rated Elite program.
Employs 144 teammates; comprised of 44 veterans and 12 military spouses.
Better Business Bureau (BBB) accredited.
4.7/5.0 average rating out of 3,000+ total reviews; over 2,000 5-star reviews.
About the Author