If you're looking for a way to earn lots of points to redeem for some amazing travel, you can't go wrong with American Express Membership Rewards credit cards. Amex provides a number of ways to earn Membership Rewards points and plenty of fun ways to redeem them for some great flights.
In this post, we'll show you all of the American Express transfer partners, how to transfer Membership Rewards to these partners, and much more. With this guide in hand, you'll be ready to book some amazing vacations!
Earning Membership Rewards
American Express provides tons of opportunities to earn Membership Rewards points. Pick the card or combination of cards that will help you earn the most points and get the benefits that matter to you.
Recommended American Express Cards (Personal)
Hot Tip: Check to see if you're eligible for a huge welcome offer of up to 150,000 points with the Amex Platinum card!
Hot Tip: Check to see if you're eligible for a welcome bonus of up to 90,000 points with the Amex Gold card!
If you're a business owner, see our list of the best Amex business credit cards.
A fun and easy way to boost your earning potential is to maximize Amex Offers, which grant additional Membership Rewards for your purchases at select merchants.
Amex Airline Transfer Partners
The American Express Membership Rewards program has a ton of airline transfer partners.
Make sure you check the transfer rate (see below) since not all transfers are done at a 1:1 ratio.
Amex Airline Transfer PartnerMin TransferTransfer Ratio (Amex > Partner)Transfer Time Aer Lingus1,0001:1Almost Instant AeroMexico1,0001:1.62-12 days Air Canada1,0001:1Almost Instant ANA1,0001:13 days Avianca LifeMiles1,0001:1Almost instant British Airways 1,0001:1Almost Instant Cathay Pacific1,0001:1Up to 1 Week Delta Air Lines1,0001:1Almost Instant Emirates1,0001:1Almost Instant Etihad Airways1,0001:1Almost Instant Flying Blue Air France/KLM1,0001:1Almost Instant Hawaiian1,0001:1Almost Instant Iberia1,0001:11-3 days JetBlue2501:0.8Almost Instant Qantas5001:1Almost Instant Singapore Airlines1,0001:11-2 days Virgin Atlantic1,0001:11-2 days
Amex Hotel Transfer Partners
Membership Rewards can also be transferred to 3 hotel rewards programs.
Like American Express airline partners, transfer ratios vary (see below), so make sure you check them before transferring.
Amex Hotel Transfer PartnerMin TransferTransfer Ratio (Amex > Partner)Transfer Time Choice Privileges1,0001:1Almost Instant Hilton Honors1,0001:2Almost Instant Marriott Bonvoy1,0001:1Almost Instant
Read more: Citi® / AAdvantage® Gold Mastercard® | Cardmembers
Hot Tip: Use our transfer partner tool to see how many points you'll get when you transfer your Amex Membership Rewards to their partner airlines and hotels!
How To Transfer Membership Rewards
With some Membership Rewards points in your account, it's time to decide where you want to transfer your points so you can start traveling. Here are the simple steps to make the transfer process easy.
Step 1: Select Earn and Redeem from the menu.
Step 2: Select Transfer Points under Redeem.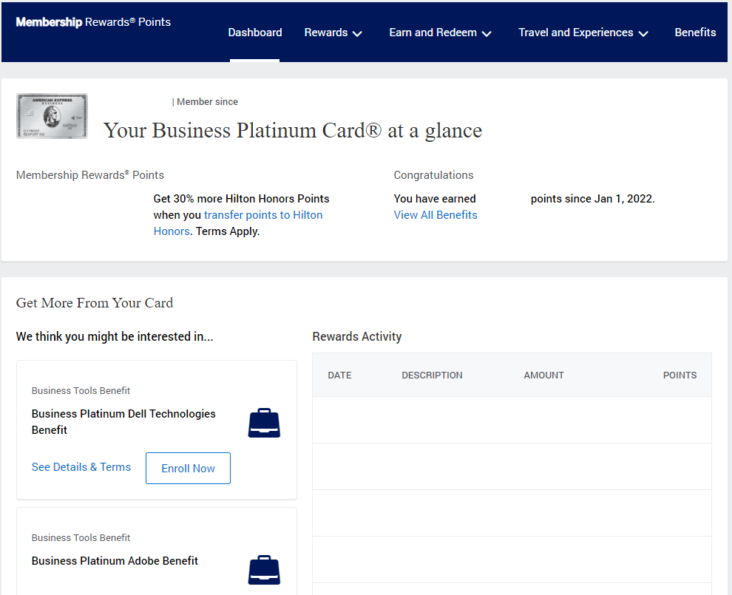 Step 3: Choose your desired airline or hotel transfer partner and select Transfer Points. If you haven't already, you will need to link your frequent flyer account to your Membership Rewards account. In the example below, we chose Delta Air Lines.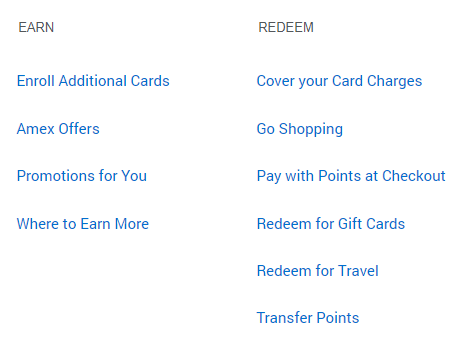 Step 4: Once you have linked your airline or hotel account to your Membership Rewards account, choose how many points you would like to transfer. Transfers must be made in increments of 1,000.

Step 5: Confirm the number of points you are transferring and complete the transfer.

Step 6: Head over to the appropriate airline or hotel program to book your award flight or award stay.
Bottom Line: Transferring Amex points to partners is easy. Just have your loyalty program numbers handy and your Amex card details, and you'll be good to go!
American Express Transfer Bonuses
Transferring your points when there is a bonus is an ideal situation. Getting the most value out of every point you have is the key to getting those high-level redemptions!
Amex has previously offered both public and targeted transfer bonus offers of 15% to 40%. For example, if you were to transfer 10,000 points when a particular partner is offering a 40% bonus offer, your points would be worth 14,000 points after transfer.
However, you shouldn't transfer points JUST because there is a bonus. It's best to keep your points in a transferable account (like Amex, Capital One, Chase, Citi, or Marriott Bonvoy) until you have a specific redemption in mind.
Booking Travel With the Amex Travel Portal
Read more: JetBlue Trade Card Overview [2022]: Superior Perks for Widespread JetBlue Vacationers | FinanceBuzz
If you're booking economy flights or hotels, don't forget to check out Amex Travel where you can book cash flights with points. Points are generally worth 1 cent each.
With The Business Platinum Card® from American Express, each point is worth about 1.54 cents when booking on your preselected airline.
The boost is applied in the form of a 35% rebate, so you'll still need the total points in your account at the time of booking. You can get up to 1 million points rebated per calendar year.
Let's check out an example (below). If you have the Amex Business Platinum card and Delta Air Lines is your selected airline, this booking will cost 22,516 Membership Rewards points initially.
Once the rebate is applied, American Express will return 7,880 Membership Rewards to your account, which means this booking would actually cost you 14,636 points.

You might have noticed in the example above that the booking is a Membership Rewards Insider Fare.
This can make your bookings through Amex Travel even more valuable since American Express sometimes discounts flights if you pay entirely with points.
Should You Transfer or Book Through Amex?
Consider the flights we discussed above. Booking this itinerary through Amex Travel costs 14,636 Membership Rewards points, and the booking still earns Delta SkyMiles as a paid fare rather than an award ticket.
If you were to transfer Membership Rewards to Delta and book this same itinerary as an award ticket, you would have to transfer 25,000 points to your SkyMiles account to book it. In this case, booking through the portal would be a much better deal.
This is clearly a time to book through Amex Travel rather than transferring points. To ensure you get the most out of your points every time, it's important to check both the portal and transfer options when booking economy class.
Other Ways To Use Your Points
Amex Travel also allows you to book hotels at up to 1 cent per point in value through Fine Hotels & Resorts.
Read more: Hawaiian Airways Credit score Card Login & Make Airways Fee
You can also redeem your points for gift cards to merchants like Nike, Saks Fifth Avenue, Walmart, or Amazon, or use your points to shop for items from the Membership Rewards site.
Unfortunately, these are generally terrible uses of your hard-earned Membership Rewards points. To get the most value out of them, stick with travel redemptions!
Combining Membership Rewards From Different Accounts
If you have multiple cards that earn Membership Rewards, they can each be linked to the same account so your points will automatically collect in one place.
Generally, when you apply for a new card that earns Membership Rewards points, it will automatically be linked to your account.
One downside is that points cannot be transferred to your spouse or significant other's Membership Rewards account.
However, you can transfer points to a frequent flyer program owned by any authorized users on your account, as long as they have been an authorized user for at least 90 days.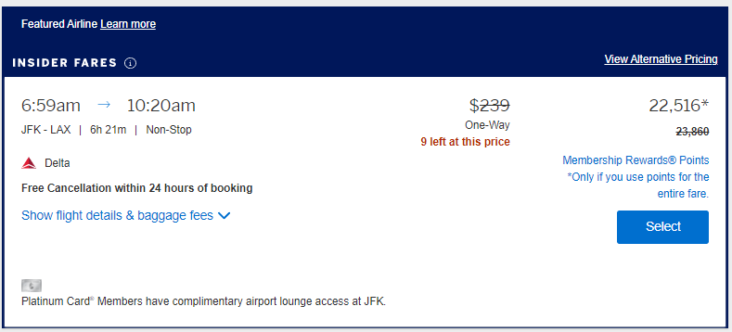 While this isn't a perfect solution, it still allows you to help friends and family book award flights.
Redeeming Membership Rewards
Using your Membership Rewards points for travel is clearly the best way to use your points.
With so many airline transfer partners and tons of ways to redeem your points, it's almost overwhelming!
To make the process a bit easier, we've compiled a list of the best ways to redeem your Membership Rewards for some amazing travel experiences.
Final Thoughts
American Express Membership Rewards points are tremendously useful if you want to travel. With so many ways to earn and redeem points, you can book award flights to just about anywhere in the world!
For rates and fees of The Platinum Card® from American Express, click here. For rates and fees of the American Express® Gold Card, click here.