Delta's Platinum Medallion status is the third-highest tier in its SkyMiles Medallion program. At the entry level is Silver, followed by Gold, Platinum, and Diamond.
Platinum Medallion truly opens up a wealth of benefits to the traveler and comes with a significant increase in perks over the lower Gold or Silver levels.
Among the top benefits are unlimited priority complimentary upgrades, a selection of Choice Benefits, SkyTeam Elite Plus status, and more.
In this post, we'll take a look at what it takes to earn Platinum Medallion status, the benefits that come with it (and how valuable they are), and how to maximize the status.
How To Earn Platinum Medallion Status
It's not easy to earn Platinum status on Delta — comparatively, it's equal to American AAdvantage's Platinum Pro status or United MileagePlus's Platinum status, which are mostly geared towards flyers who are heavy business travelers.
To earn Platinum, you must complete 1 of these 2 options:
Fly 75,000 Medallion Qualifying Miles (MQM) and spend $9,000 Medallion Qualifying Dollars (MQD)
Fly 100 Medallion Qualifying Segments (MQS) and spend $9,000 Medallion Qualifying Dollars (MQD)
In both scenarios, you can waive the spend requirement by purchasing more than $25,000 a year on a select set of Delta co-branded American Express credit cards. Doing so will allow you to only have to fly the required mileage or segments.
As a reminder, Medallion Qualifying Miles (MQM) are the actual distance of a flight you take and Medallion Qualifying Segments (MQS) are the number of takeoffs and landings you complete. For example, a flight from Miami to Atlanta to Chicago is 2 segments.
Your Medallion year is valid from the day you earn it until January 31 the following year, at which point benefits reset.
The Benefits of Platinum Medallion
Choice Benefits (Up to $300 Value)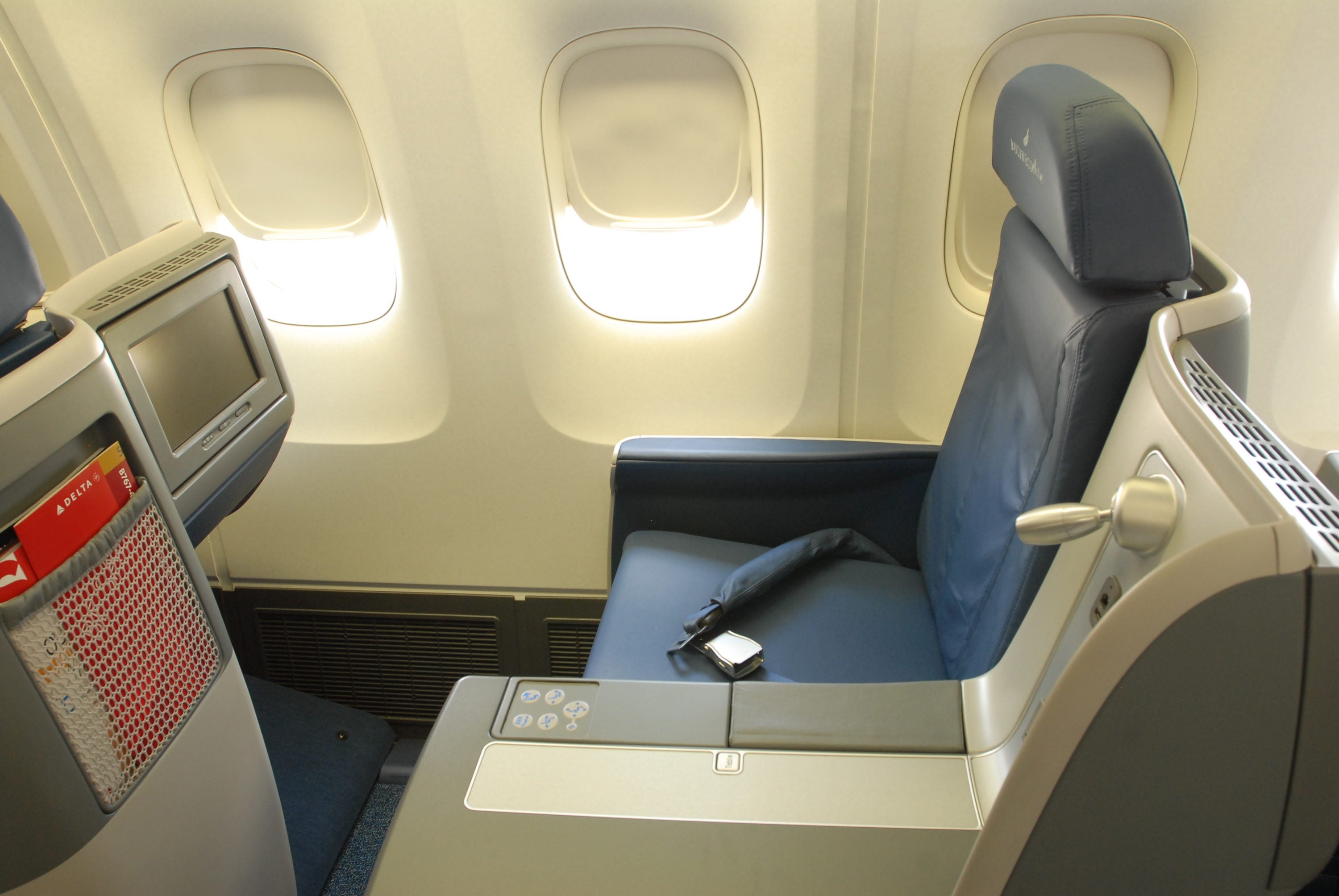 One of the unique things about Platinum Medallion status is the opportunity for the status holder to choose among a set of benefits to better tailor their travel experience. Choice Benefits are only available to those who have met the requirements for status, and not those who had their status extended.
Platinums can choose one of the following:
4 Regional Upgrades, valid on domestic or local international routes
20,000 bonus SkyMiles
Silver Medallion Status to gift to a friend
A $200 travel voucher
The regional upgrades allow you to confirm an upgrade in advance on an eligible Delta-operated flight that flies a domestic or local international flight. When upgrade space becomes available, you can apply your Regional Upgrade certificate to confirm the seat.
20,000 bonus SkyMiles are generally good for a one-way economy ticket in the U.S., or, depending on any mileage sales, a round-trip ticket in some scenarios.
Usually, the gifting of status is the least valuable perk, especially since in this case it will be Silver Medallion status which doesn't come with too many benefits.
Finally, if you choose a gift card to a major retailer, you must consider that you can often get much more value by choosing the bonus SkyMiles or the upgrade certificates.
Bonus Miles ($350)
When you're a Platinum Medallion, you earn 9 miles for every mile you fly. So, spending the required $9,000 per year would net you 81,000 miles. Roughly, you could anticipate a one-way business class ticket to Europe for this price, or a little more than a round-trip first class ticket within the U.S., give or take, since Delta uses dynamic pricing.
Read more: Experien Insurance – Specialist Insurance advisers in the Medical, Dental and Accountant professions
Also, you get an unlimited amount of rollover Elite Qualifying Miles, so if you were over Platinum status, but not quite enough for Diamond, those extra miles could roll over to the next year to give you a head start on earning Platinum status again, which is very beneficial.
Unlimited Complimentary Upgrades ($600)
Delta Platinum Medallions receive an unlimited amount of complimentary upgrades within the U.S. and on some international routes in Canada, Mexico, Central America, and the Caribbean.
Here is the Delta chart explaining which services are upgradable, and when, per Delta:
Type of UpgradeWhen the Upgrade May ClearUnlimited complimentary U.S. 50 Delta One upgrades: All paid tickets (except E fares), award tickets, Miles + Cash, and Pay with Miles ticketsDay of departureUnlimited complimentary first class upgrades: All paid tickets (except E fares), award tickets, Miles + Cash, and Pay with Miles ticketsBegins 120 hours (5 days) prior to departure with priorityUnlimited complimentary Delta Comfort+ upgrades: All paid tickets (except E fares), award tickets, Miles + Cash, and Pay with Miles ticketsShortly after ticketingUnlimited complimentary U.S. 50 Delta One, First Class, and Delta Comfort+ upgrades for a companion: All paid tickets (except E fares), award tickets, Miles + Cash, Pay with Miles tickets, and SkyMiles companion certificates✓Unlimited complimentary Clase Premier upgrades on select Aeromexico-operated flightsBegins 120 hours (5 days) prior to departureComplimentary preferred seats✓
Delta prioritizes upgrades differently than other airlines, so it's important to understand where you'll fall on the list.
The most important thing is Medallion status. If you have a higher Medallion status, you'll always get the upgrade before someone else with a lower status.
Fare class ranks next, so if 2 Platinum Medallions have different ticket fare classes, the one with the more expensive class will get upgraded first.
If you hold the Delta SkyMiles® Reserve American Express Card, that becomes the next differentiator. Those with the card get preference over those without it.
If you're a Delta corporate traveler and your ticket designator is on the ticket, you'll get priority over other travelers without corporate agreements.
If you spend over $25,000 on a Delta co-branded credit card, you get preference over those who have not completed this.
Finally, you'll be upgraded by the date and time you request the upgrade. Those who book first get priority.
As a Platinum Medallion, you'll always take priority over Gold and Silver travelers, and many Platinum Medallions report a really high success rate with upgrades.
Even on some key routes, such as transcons and other flights, many Platinums report a high percentage of upgrades, which for many flyers is key in deciding whether or not elite status is worth it to pursue. At the Platinum level, often the discussion lies in whether to jump up to Diamond Medallion, and that will be a personal decision based on whether the $15,000 total spend a year is worth it to get upgraded more and be higher on the upgrade list.
Keep in mind, Platinum Medallions get access to Comfort+ shortly after ticketing, so most of these members will already be in prime economy class seats to begin with. From there, they can request an upgrade to first class.
Often, you'll find Atlanta, Detroit, Los Angeles, and Seattle filled with higher-tier elites, so if possible, try to avoid connecting through major hubs during peak hours. Also, to increase your odds of being upgraded, choose either larger aircraft or routings that most businesspeople will not take, such as through obscure cities like northwest Arkansas or via Memphis. Delta.com will let you route through many different cities depending on your search results.
Hot Tip: Delta often prices their domestic first class fares very reasonably. If you're concerned that your upgrade may not clear, look at the price to purchase up into the premium cabin — it could be very cheap.
Waived Baggage Charges ($250)

Platinum Medallions get their baggage fees waived for themselves and up to 8 companions on the same reservation. Since baggage charges are $30 for the first checked bag, this is a huge saving, especially when traveling with multiple people. If you have 8 companions traveling, that's a $240 savings.
Waived Same-Day Confirmed Fees ($300)
This benefit can be worth several hundreds of dollars throughout the year if used correctly. Let's say you have a meeting or other obligation that ends early and you want to go home earlier. Using a same-day confirmed option, you can change onto this earlier flight at no additional cost as a Platinum Medallion.
Normally, this benefit costs $75, so it's an expensive change if you don't have elite status. As long as the same fare class is available on the new flight you want to move to, you can change at no additional cost. If you're in first class, you can change to economy class with any fare class available.
As with most things, there are some restrictions. For example, you cannot change a flight that has a connection to one that is non-stop, as typically non-stop flights are much more expensive than connecting ones. You also can't change from a co-terminal. So, if you're flying into JFK, you can't change to LaGuardia.
Delta now provides complimentary changes to all tickets, with a change in fare difference applicable. If you aren't able to confirm onto a flight using the same-day confirmed benefit, you can change your ticket without a penalty, and you only have to pay the fare difference. It's worth keeping this in mind in case you aren't able to use the elite benefit.
Bottom Line: Same-day confirmed is based on availability so long as the same fare class is available within 24 hours of the new flight.
Waived Same-Day Standby Fees ($200)
Same-day standby works just like its same-day change counterpart, however, you aren't confirmed on a new flight but rather just waiting to see if a seat opens.
This is processed in elite order — similar to how upgrades are processed — so, in the case of a Platinum Medallion, a Diamond will get the seat before the Platinum.
Read more: Kohls Credit score Card Login & Expenses Fee For 2022 [Number]
If you're on a basic economy class ticket, you won't be able to use this benefit, and the same goes for those who want to fly out of a different airport.
Unlike other airlines, standby is not free to general SkyMiles members or regular passengers — it is only for elites.
SkyPriority (Value Included in SkyTeam Elite Plus Benefits)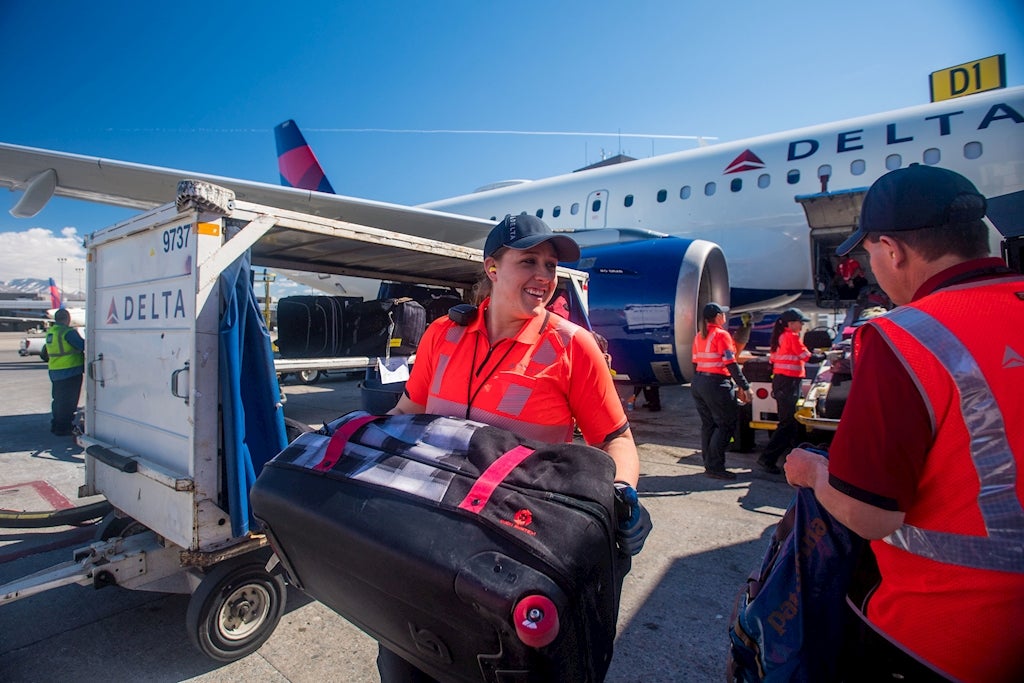 No matter which class of service you're traveling in, with SkyPriority, you'll be able to move more efficiently throughout the airport process.
When you check-in, you'll get access to priority lines, allowing you to speak with an agent faster and get any luggage checked quicker.
When you are going through security at major airports there will be a priority security line access where you'll be able to access the screening process faster. Keep in mind, some smaller airports do not have this feature.
When you check a bag, it will be tagged with a priority sticker so it is among some of the first bags that come out to the luggage carousel.
Also, when you board the aircraft, you'll receive SkyPriority boarding, which means you can board the plane after pre-boarding, Delta One, first class, Delta Premium Select, and Delta Comfort+, but before all economy class passengers.
Preferred Pricing on a CLEAR Membership (Value Depends on if You Purchase)
Speed through airport security with the help CLEAR. Often, lines feeding into the TSA officer ID checkpoint can be long, especially at busy airports or during peak times.
CLEAR uses biometric technology so you can avoid the losing wait to have your ID inspected. You simply walk up to the CLEAR kiosk, scan your fingerprints and boarding pass, and proceed directly into the security process by walking through the metal detector. The lines for CLEAR are almost always short, and there's a really good chance you'll beat out any folks walking through the traditional lines.
For Platinum Medallions, you can receive CLEAR for $109 annually, which is a $70 savings off of the traditional retail price. Delta has partnered with CLEAR to help make airport travel more seamless and combined with your SkyPriority benefits, it's one of the best airport experience combinations out there.
VIP Phone Line ($200)
As a Platinum Medallion, you can expect much fast service throughout your entire travels. This starts with the VIP phone line you have access to, where you can dial in and access one of Delta's reservations agents faster than a Gold or Silver Medallion.
Being able to talk to a person is important, and in a day and age where more things are moving to apps and technology, having access to a human provides a personal touch. Not to mention, if your flight gets canceled or there's some sort of other flight issue, you want to be able to get it resolved quickly. Being able to jump the queue in front of other people on the phone line is a tangible benefit you'll appreciate.
Hot Tip: These agents may not be able to pull any special favors or waive any mandatory fees, but there's a fair amount of reports of that being done, so you'll want to keep this in mind as you call in.
Priority Waitlisting ($100)
When you purchase a ticket on Delta, if you want to sit in the premium cabin but there are no seats available, Platinum Medallions receive priority waitlisting should a seat open up.
This is a great benefit for business travelers who are allowed to travel in business or first class, but who often may find these seats sold out at busy travel times during the year.
SkyTeam Elite Plus Status ($400)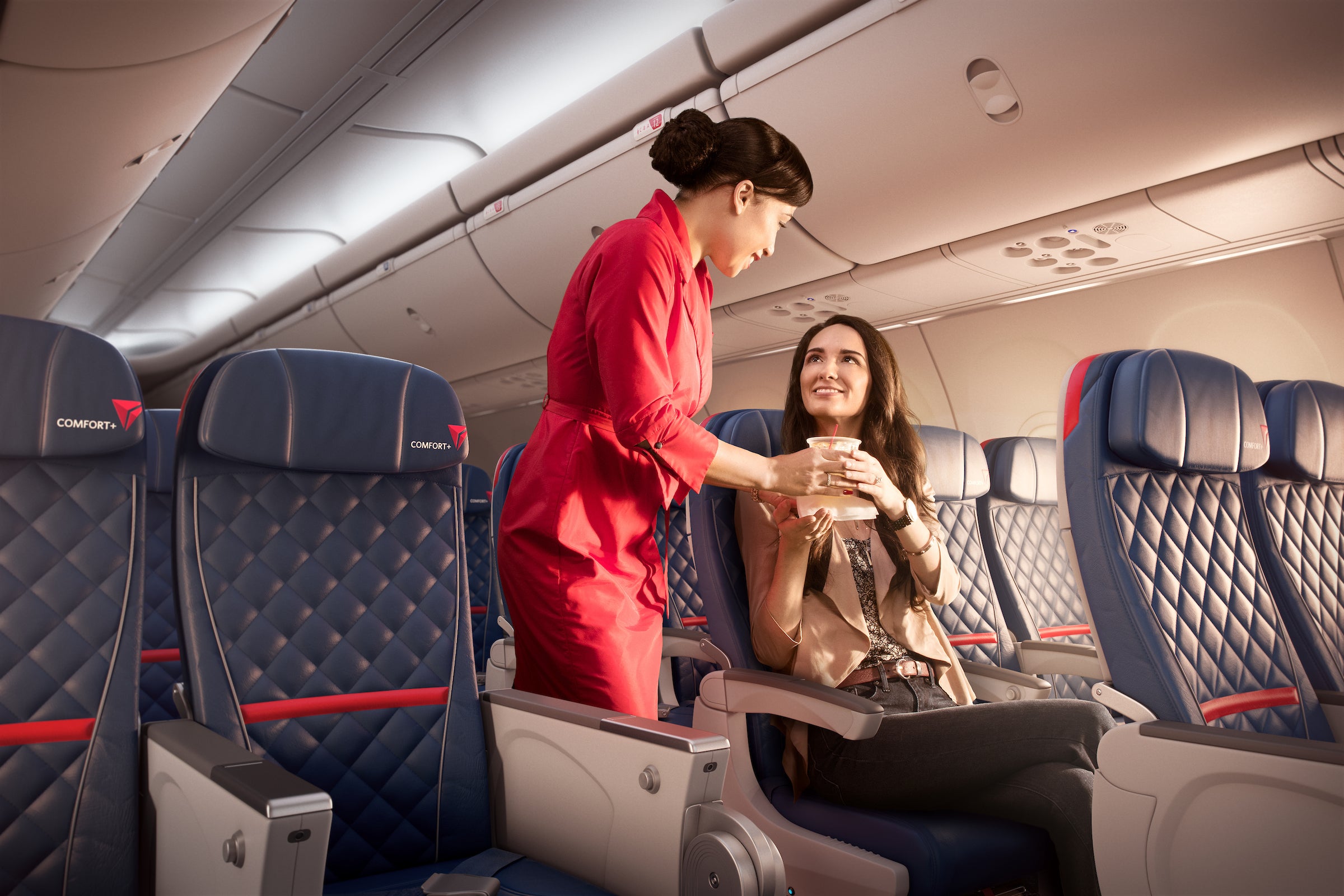 SkyTeam has 2 levels for its alliance-wide benefits: Elite and Elite Plus. Platinum Medallions fall into the Elite Plus category, which includes the following benefits:
On sold-out flights, you can get a full fare economy class seat at least 24 hours prior to departure
No matter which class of service you're flying in, you can access all other SkyTeam partner airline lounges — you can even take 1 guest in with you.
Your baggage will be tagged with a priority tag and should come out on the carousel first
You can check extra bags at no charge depending on the airline
These benefits are quite valuable, but keep in mind the same perks can also be earned at the Gold Medallion level. Probably the most valuable of the SkyTeam Elite Plus perks is the ability to access all partner lounges no matter the class of service you're flying, which makes flying even the most long-haul of flights tolerable.
Read more: Credit Card Offers & Benefits – HSBC Bank USA
Bottom Line: The biggest benefit of SkyTeam Elite Plus is lounge access on all international itineraries.
Hertz Status ($200)
Since airline frequent flyer program elites tend to also rent cars frequently, Delta has teamed up with Hertz to offer Platinum Medallions President's Circle status, one of the highest tiers within the Hertz Rewards program.
Top benefits of President's Circle include the widest selection of cars, a dedicated phone line, free additional drivers, and complimentary upgrades depending on availability.
Here are the benefits according to Hertz:
President's CircleQualification20 rentals or $4,000UpgradesGuaranteedEarning Points$1 = 1.5 pointsUltimate ChoiceWidest selectionFree CLEAR Airport Trial4 monthsReward RedemptionsAdditional exclusive benefits and rewardsTransfer Points To Select Traveler Partners✓Dedicated Hertz Rewards Line✓Free Additional Driver✓
Delta Vacations Savings (Value Depends on How Much You Purchase)
This benefit is the same no matter which Delta elite tier you are but is exclusive to Medallion members.
When you book a Delta Vacations package, you can save up to $300 depending on how much you spend:
$50 savings on vacations of $1,250 to $2,499
$100 savings on vacations of $2,500 to $3,999
$150 savings on vacations of $4,000 to $6,999
$350 savings on vacations of $7,000 or more
Luggage Tags ($10)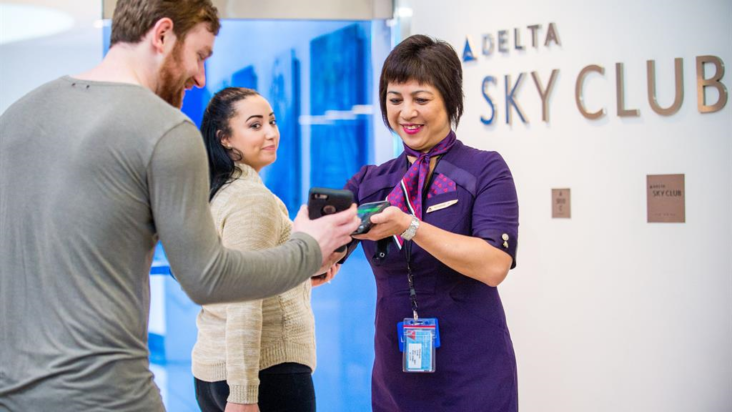 Like all Medallion levels, you will receive luggage tags each year you qualify, which you can put on all your bags to show off your status and loyalty to Delta.
Reclaim My Status ($300)
Note: If you had Delta status in 2020, your status is automatically extended until January 31, 2022, so this benefit may prove beneficial for those that otherwise would have qualified for a normal reclaiming of status.
This is one of the most unique things with Delta and is something immensely valuable depending on the situation.
Let's say you're a heavy business traveler who travels often for work, but you have a death in the family. Naturally, your travel may start to slow down and you may not be able to keep up with the requirements of status.
Delta has designed a mechanism for you to reclaim your status if you lose it, which allows you to get back to your most recent, highest status while participating in a challenge.
You can participate in Reclaim My Status as long as you have some sort of valid reason for not flying as much — which could be a death in the family, a job change, pregnancy, or a host of other valid reasons. You provide proof of this circumstance for Delta to review and approve. Assuming everything checks out, you're then given status for a trial period and have to fly enough to continue to earn status.
For Platinum Medallions, you need to fly 18,750 Medallion Qualification Miles in 3 months, or 25 Medallion Qualification Segments. Also, you need to either spend $2,250 or participate in an MQD waiver by spending enough on a Delta American Express credit card.
Once you complete this challenge, your status continues for the remainder of the status year. You can then get back on track and continue to earn Medallion status for years to come, even though you may have had an interruption due to a life event.
Final Thoughts
Delta's Platinum Medallion is where you really start to feel like an upper-tier elite in the Delta SkyMiles program. Your upgrades will clear a sizable chunk of the time, you'll have a Choice Benefit to choose from, and you'll be able to access lounges through the SkyTeam Elite Plus program, among other benefits.
Using most benefits would result in approximately $3,210 worth of value a year.
When you add in the SkyTeam alliance benefits, such as lounge access, Platinum is a worthwhile status to go along with Delta's very reliable operations and strong network.